Android 9 improvements build on CopperheadOS' existing security
Copperhead is proud to announce that we have pushed Android Pie stable to all CopperheadOS users on our supported devices: Pixel 1, Pixel XL, Pixel 2 and Pixel 2 XL. Android 9 comes jam-packed with fantastic privacy improvements (some of which we laid the groundwork for) and we're glad to see Google continue their kernel hardening work for the benefit of the entire Android ecosystem. Alongside Android 9's improvements we have been busy making CopperheadOS a more user friendly experience. If you're the type who diligently reviews changelogs (kudos to you!) CopperheadOS release notes are available on our documentation section.
User experience improvements
Security Flags
The security of CopperheadOS devices is always of the utmost importance to us and our users. To better illustrate what matters most, we've amalgamated the under-the-hood security features of CopperheadOS in a easy to display Security Flags popup found under Settings -> About
All active!
Clicking on the security flags box displays further details.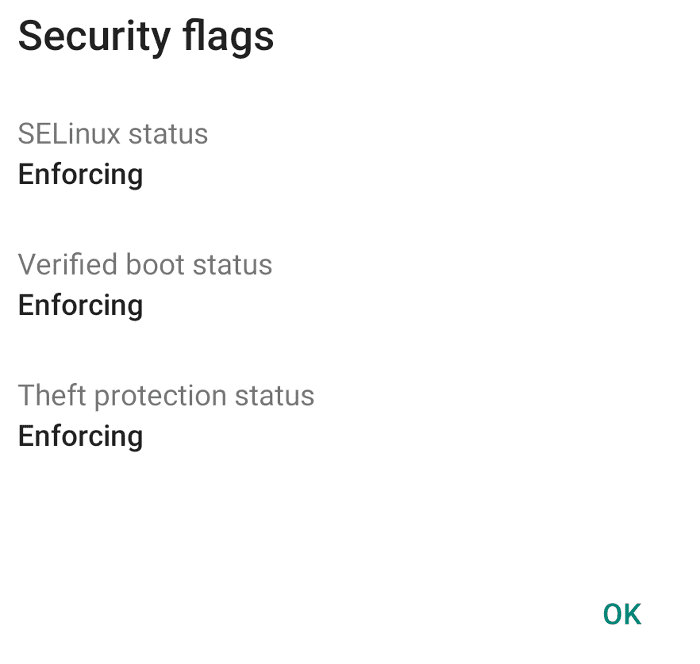 Enforcing 💪💪💪💪
Updater
CopperheadOS updater has been under active development for the last few years with the explicit intention of making the user experience of upgrading and staying on top of patches a hassle-free experience. It is well understood that the Android ecosystem has a fragmentation problem when it comes to upgrades, making Android devices a rife target for attackers. Thus a robust and easy-to-understand Updater is an essential component for keeping users protected and ahead of the security curve.
In typical pragmatic Copperhead fashion, we've improved our updater further to enhance the feedback a CopperheadOS user will receive.
The CopperheadOS Updater now:
Defaults to "Unmetered"
Includes a button to manually check for update
Has a progress bar when downloading or installing an update
Provides feedback regarding the downloading and update process
Includes a 'stable-legacy' channel for users who wish to stay on the previous major stable CopperheadOS release

Updater displaying progress bar

Updater's feedback on the installation process

Updater finished installing
Backup
Keeping CopperheadOS data backed up and secured has been, up until this release, reserved for users who mess around with the Android Debug Bridge. This has been a common issue we've heard from customers since day 1: "How do we back up our data?" Nothing is more devastating to an organisation than losing its data and because Google Play Services, for privacy reasons, is absent from CopperheadOS, the usual Android cloud backup settings is absent (though we are announcing a partnership to solve this soon!). This is especially true for concerns regarding crossing national borders and the potential for border-crossing compromise increasing everyday.
Fret no more! Thanks to the hard work from a friend of ours, CopperheadOS now has a native backup application that backs up and encrypts a device's data - without any terminal or ADB commands required. This is an exciting addition for all users and we are especially happy to facilitate the protection of our international roaming customers while they are traveling.
Need updates?
If you're a CopperheadOS customer and haven't received the Android 9 update contact our support desk and we'll be happy to see what's going on.
Copperhead: The leader in secure OS development
This upgrade positions CopperheadOS's version above 93% of active Android devices (as reported by Google) and grants Copperhead the privilege to be in top 5% of OS vendors who maintain products according to the upstream release - a fantastic accomplishment for a sales-only bootstrapped company from Toronto! I couldn't be more proud of what we've accomplished in the past 4 years and what we're going to accomplish together in the next 4 and beyond.
What's next?
2019 is going to be a blisteringly fast and important year for Copperhead. We're excited to keep bringing out positive, community-invigorating and innovative technical news. If you're interested in joining us on discussions from all ranges of topics feel free to ask for a Slack invite to our public channel. We would love to hear from you!