What is Nextcloud?
"Nextcloud is a self-hosted productivity platform that keeps you in control."
With the shocking end of privacy on Apple devices, nothing could be more topical than Nextcloud. Nextcloud is a platform made up of several open source software components. First is your self-hosted Nextcloud server, which is offered in several full-stack configurations. The Nextcloud server then integrates with a set of client apps available for both mobiles and desktops.
Nextcloud gives you control of your data by providing all of the software you need to synchronize your data across devices. Take back control of your data from Google and Apple, and keep it on private servers you trust. Secure your server and host your data privately, assured that your data is encrypted at rest on your Nextcloud server, end-to-end in transit and on your remote CopperheadOS devices. Share only what you want to share.
Zero trust has become Information Technology policy for the United States government. It is difficult to justify trust in companies like Apple, Microsoft and Zoom to maintain the privacy and safety of not only their products but the infrastructure which enables those products to work. While breaches and leaks occur with alarming frequency for these big targets and vulnerabilities are slow to be patched, the data you trust them to protect is at risk.
Whether for your home and family, or for your growing business Nextcloud and Copperhead can help you free yourself from the panopticon and take intrusive, reactionary corporations out of your digital life.
Nextcloud server deployments and instances
Nextcloud's versatile server software stack can be deployed in a variety of ways. From low impact and easy to setup Nextcloud appliances for Raspberry Pi to highly available bare metal server and virtual private server deployments, Nextcloud can be setup and run for little to no additional cost. Alternatively, Nextcloud offers full support for enterprise customers.
How does Nextcloud integrate with CopperheadOS?
Nextcloud offers a suite of Android Apps which are fully compatible with CopperheadOS. Each App allows your device to interact with more features and functions offered from your Nextcloud server instance. The Nextcloud App itself serves as the main "Hub" configuration point for Nextcloud on your CopperheadOS device, as well as enabling synchronization of files and CopperheadOS Seedvault remote back ups.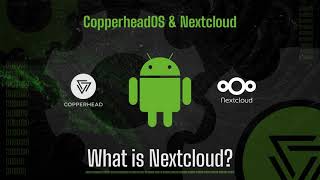 Additionally, take full control of your digital life and collaborate on work with Nextcloud Talk and Groupware. Use Nextcloud Talk to meet online with video conferencing and screen sharing. Enjoy private email, calendars and contact synchronization at home using Groupware offerings or power your business with integrated chat and project management features.
Nextcloud Android Apps
Nextcloud App Suite
Third-party Contributed Apps
Nextcloud Notes
Nextcloud Passwords
OpenTasks
DAVx5
Nextcloud provides comprehensive documentation for administrators and users. For more information on using CopperheadOS and Nextcloud together, please visit our usage guide.