CopperheadOS for the Pixel 4, Pixel 4 XL and Pixel 4a Released
Copperhead is always excited to announce support for new devices, making this a particularly auspicious occasion as we launch support for three new devices with CopperheadOS and Android 11. New devices provide a wealth of benefits for both security and usage. The Pixel 4a and Pixel 4 series both contain the powerful Titan M chip to establish root-of-trust in concert with Android Verified Boot. The Titan M also provides access to a dedicated hardware cryptographic KeyStore, and independent secure transaction processor that works with the Android Protected Confirmation API to protect critical data and ensure a human being is at the controls. Features like these make the Google Pixel family of devices with CopperheadOS the most secure Android devices on the market.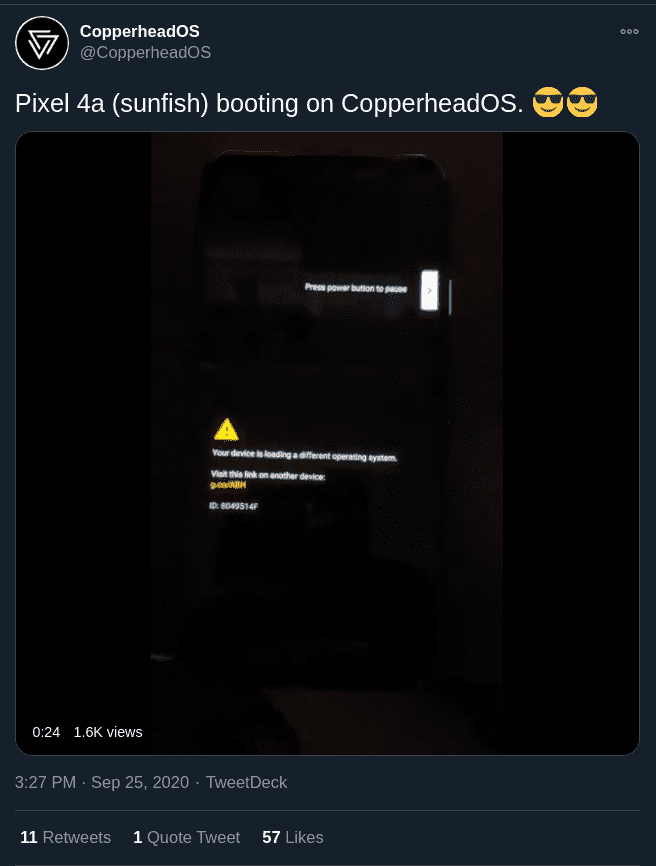 CopperheadOS leads the way in Secure Android device support by announcing the Pixel 4a in September 2020
Updated kernel level security
The Pixel 4 family of devices all feature kernel hardening like Control Flow Integrity forward-edge mitigation as well as Shadow Call Stack backward-edge mitigation. Working as a team with the Titan M security module, these kernel level mitigation techniques prevent sophisticated attacks like Return Oriented Programming (ROP). While these features premiered on the Pixel 3 and 3a with Android 9 and Android 10, Pixel 4 and Pixel 4a are the first to boast these kernel hardening features out of the box. These kernel level protections fortify your CopperheadOS Pixel 3+ device against would-be intruders who might try to reuse code to execute their attack.
CopperheadOS Pixel 4a
Support for the Pixel 4a (code name sunfish) brings CopperheadOS users a brand new flagship device. Secure, private, efficient and economical, the CopperheadOS Pixel 4a delivers what modern businesses need now more than ever. With it's powerful Qualcomm Snapdragon 730G system-on-chip with Adreno 618 GPU, high resolution front and rear cameras and up to a 76 hour battery charge; the Pixel 4a does it all. The affordable Pixel 4a also boasts increasing availability worldwide, and continuing support from Copperhead, Google and Qualcomm for years to come. The CopperheadOS Pixel 4a is an ideal investment to protect your data.
CopperheadOS Pixel 4 and CopperheadOS Pixel 4XL
For the enthusiast, and from our enthusiastic developers, we add support for the powerful Pixel 4 (flame) and 4 XL (coral) devices. CopperheadOS on Pixel 4 and 4 XL delivers the performance enthusiasts demand, without sacrificing security and privacy. Tap into the power of the 7nm Qualcomm SM8150 Snapdragon 855 with Adreno 640 GPU while enjoying the security of CopperheadOS in concert with the Titan M hardware security module. Take advantage of either the crisp 1080, 80cm2 Pixel 4 or the 1440, 98cm2 Pixel 4 XL, both at a smooth 90hz refresh rate.
Legacy devices Pixel 2 and 2XL
While we celebrate our support for new devices, it is also a reminder that time marches forward and with it the sun sets on older devices. Copperhead announced support for the Pixel 2 series in 2018 and quickly became the top-selling product for Copperhead. While Copperhead is not ending support for the Pixel 2 and 2 XL immediately, that time will be coming in 2021. As a legacy device, Pixel 2 will receive its final update and release in 2021 as Google and Qualcomm cease updating the firmware.
CopperheadOS Pixel 4 and 4a devices can be purchased through Copperhead's partner network. Contact us to get connected to a distributor in your region.